VANCOUVER, BC / February 9th, 2023 / Nepra Foods Inc. (the "Company" or "Nepra") (CSE:NPRA) (FSE:2P6) (OTCQB:NPRFF), creator of nutritious plant-based and allergen-free food, announces the first partnership with a national bread company to deliver the first products to contain Nepra's proprietary allergen-free and vegan egg replacement. This novel product not only removes the last remaining allergen (i.e. eggs) and animal product from the ingredient label, it also represents the first shelf-stable gluten-free bread with an ambient (i.e. non-refrigerated) shelf life of 28 days. The Company has partnered with a national gluten-free bakery whose products will be initially distributed through KrogerTM, PublixTM, and MeijerTM representing over 2,600 retail locations across the country. The initial formulation will be used in white and multigrain breads, subsequently expanding to other gluten-free product offerings, with Nepra supplying the ingredients and formulation. The Company retains ownership of the proprietary formulation which provides the ability to license or partner with other leading bakeries.
"This product not only allows for the removal of an allergen and animal product from an ingredient list, it is also topical given the five-fold increase in egg prices last year. It not only offers a superior replacement to conventional eggs, it's also more cost competitive with less inherent price volatility, and the supply of the product is significantly more stable," commented Chadwick White, CEO of Nepra Foods. "Products developed with our egg replacement also have superior characteristics for gluten-free applications, presenting a product that is shelf-stable in ambient conditions, with many of the structural characteristics of conventional gluten-rich bread but also maintaining superior product quality for over 28 days. There is literally no application we cannot make a formulation specific for – it truly has the ability to revolutionize the baking and ingredient business as we know it!"
In 2022, US egg prices were up 530%[1] driven largely by avian-specific diseases and rising input costs[2]. Powdered eggs are a critical ingredient to both conventional and gluten-free bakeries, with Nepra's formulations offering a 50% reduction in costs (vs. conventional eggs) or over a 20% savings in final product costs. Nepra's proprietary egg replacement formulations provide for vegan, non-allergenic, direct substitute at a fraction of the cost of conventional eggs with pricing and supply stability.
Nepra's Essential Egg Replacement Products
The Company has developed an entire line of egg replacement formulations to replace the use of conventional eggs in products ranging from baked goods to condiments and sauces. The Company has focused on the gluten-free bakery industry for its first commercial applications given management's extensive network and expertise within the product vertical. The specific formulation developed by Nepra's Research & Development team for this first commercial partnership is a gluten-free bread that is nearly indistinguishable from its wheat-based counterpart and has a 28-day ambient shelf life and reduced carbohydrate profile. The increased shelf-life will enable bakeries to move their products from the costly and hard-to-come-by freezer sets to the center-store shelf and bakery aisles. Not only does this result in savings for product storage and transportation, but the center-store shelf placement also moves gluten-free bread closer to being a supplementary good to typical wheat-based bread.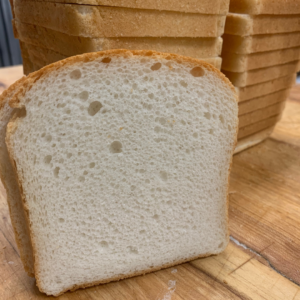 About Nepra Foods
Nepra is a multi-category market leader in delicious allergen-free and plant-based food ingredients and consumer products. Through technology and a world-leading team of chefs, master bakers, food scientists, and nutrition experts we are solving the nutritional challenges of today and tomorrow.
For further information contact:
Investor Relations
investors@neprafoods.com
1-844-566-1917
Chadwick White, CEO
chadwick.white@neprafoods.com
(720)-729-8500
The CSE has neither approved nor disapproved the contents of this news release. The CSE does not accept responsibility for the adequacy or accuracy of this release.
Forward-Looking Statements
This news release contains statements and information that, to the extent that they are not historical fact, constitute "forward-looking information" within the meaning of applicable securities legislation. Forward-looking information is based on the reasonable assumptions, estimates, analysis and opinions of management made in light of its experience and its perception of trends, current conditions and expected developments, as well as other factors that management believes to be relevant and reasonable in the circumstances at the date that such statements are made, but which may prove to be incorrect.
Forward-looking information involves known and unknown risks, uncertainties and other factors that may cause the actual results, performance or achievements of the Company to differ materially from any future results, performance or achievements expressed or implied by the forward-looking information, including, but not limited to, the statements relating to the Company's financial performance, business development and results of operations. Accordingly, readers should not place undue reliance on any such forward-looking information. Further, any forward-looking statement speaks only as of the date on which such statement is made. New factors emerge from time to time, and it is not possible for the Company's management to predict all of such factors and to assess in advance the impact of each such factor on the Company's business or the extent to which any factor, or combination of factors, may cause actual results to differ materially from those contained in any forward-looking statements. The Company does not undertake any obligation to update any forward-looking information to reflect information, events, results, circumstances, or otherwise after the date hereof or to reflect the occurrence of unanticipated events, except as required by law including securities laws.
Sources:[1]Trading Economics: https://tradingeconomics.com/commodity/eggs-us ; [2] Forbes: Cracking Open the Issue of High Egg Prices: https://www.forbes.com/sites/daniellenierenberg/2023/01/27/cracking-open-the-issue-of-high-egg-prices/